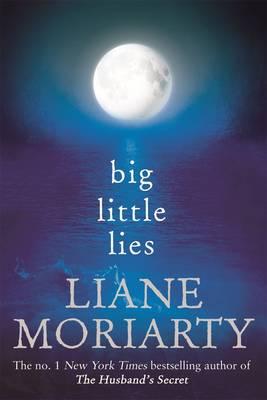 My favourite book of 2014
When I unwrapped this book on my birthday, I smiled. I'd heard good things of Liane Moriarty and looked forward to discovering her writing for myself. Two months later and I'm still smiling. I LOVED this book. Let me tell you why:
1. It was like reading about my own life
What pulled me in to start with was reading about people, places and situations that felt so familiar it was almost spooky. The book begins and ends with a primary school trivia night that goes wrong. In between there are around 400 pages of daily life and domestic dramas, some are storms in teacups, but others are much much worse.
2. It's funny
Moriarty has a wicked sense of humour and doesn't miss a trick. She's ruthless in her assessment of playground politics, shows but doesn't tell and gives her cast of characters - many of whom are like a chorus, voicing their own opinions at the end of chapters - plenty of rope with which to hang themselves.
There's something to make you smile on so many pages. Opening the book at random I found this:
He turned off the bathroom light. They both went to opposite sides of the bed, snapped on their bedside lamps and pulled back the cover in a smooth, synchronised move that proved, depending on Madeline's mood, that they either had the perfect marriage or that they were stuck in a middle-class suburban rut and they needed to sell the house and go travelling around India.
'I'd quite like to give Jane a makeover,' mused Madeline as Ed found his page in his book. He was a big fan of Patricia Cornwell murder mysteries. 'The way she pulls back her hair like that. All flat on her head. She needs some volume.'
'Volume,' murmured Ed. 'Absolutely. That's what she needs. I was thinking the same thing.' He flipped a page.
3. It's beautifully written
To say there's a lot going on in this book is something of an understatement. But it's easy to read because Moriarty's prose just sparkles. Every word on the page earn its keep and the story has its own momentum - I couldn't put it down.
4. There's more to Big Little Lies than meets the eye.
You could be forgiven for thinking, at a quick glance, that the book is chick lit. Flicking through the pages you'll find the characters gossipping and bitching and falling in love too. But the story has a dark underbelly and Moriarty's exploration of domestic violence is one of the reasons the book has garnered so much attention.
'Mum! Come on!' Josh yanked on Celeste's arm. She clutched at her tender right shoulder. 'Ow!' For a moment the pain was so sharp she fought nausea.
'Are you all right?' said Renata.
'Celeste?' said Perry. She could see the shameful recognition in his eyes. He knew exactly why it had hurt so much. There would be an exquisite piece of jewellery in his bag when he returned from Vienna. Another piece for her collection. She would never wear it and he would never ask why.
For a moment Celeste couldn't speak. Big, blocky words filled her mouth. She imagined letting them spill out.
My husband hits me, Renata. Never on the face, of course. He's far too classy for that.
Does yours hit you?
And if he does, and this is the question that really interests me: Do you hit back?
'I'm fine,' she said.
5. There's more where this one came from
There's nothing I like more than finding a new favourite author and discovering he or she has written lots of books. I'm going to track down
Three Wishes
and
The Husband's Secret
next. Also on my list are
The Last Anniversary
,
What Alice Forgot
and
The Hypnotist's Love Story
.
What's your favourite book of 2014? And have you discovered Liane Moriarty yet?